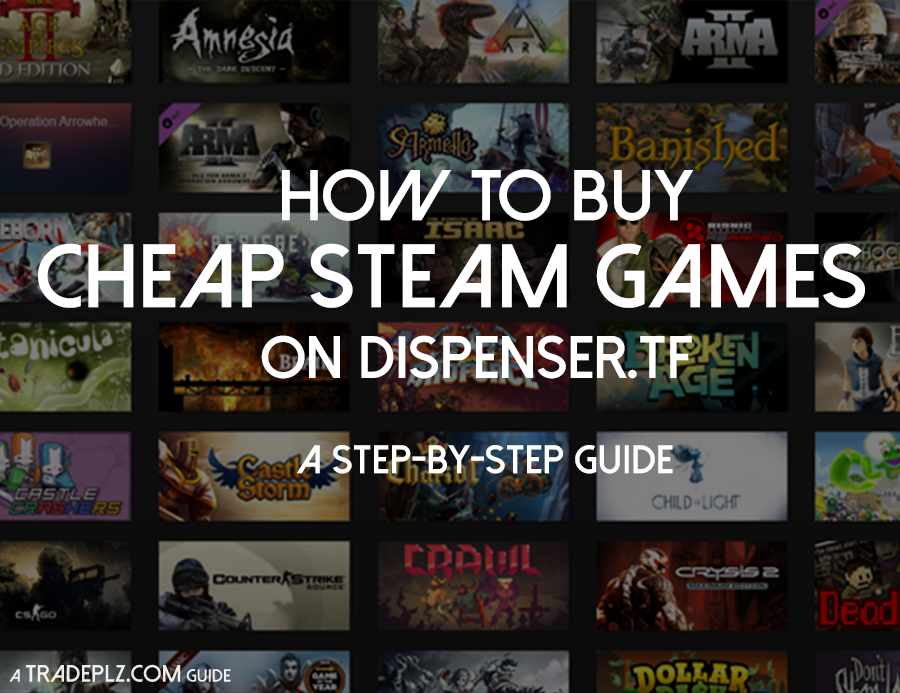 This is a step-by-step on how to get cheap Steam games via the trading site Dispenser.tf. It's one of the cheapest sources for Steam games out there and you can easily find a bargain for most games. There's a few things that makes Dispenser.tf a fantastic place for bargain hunting, the best reason is the marketplace feature, you can easily search for most games on the site and easily get a list of all current sellers for that specific game, sorted with the cheapest games first, it doesn't not only make it easier for us buyers to find the best deals, it also makes the sellers compete to be the cheapest seller, driving the price down.
Compare that to TF2outpost or r/SteamGameSwap where you need to search through a lot of pages to find the good deals, with no easy way of comparing prices between sellers. I will show below a step-by-step on how to Search, Deposit keys and how to Buy games on Dispenser.tf
Update 2017-12-15
A quick note before we begin, Since Steam changed how Steam game gifts work (new game gifts are not tradeable), this guide has become much harder to find cheap games on, keep that in mind when reading further. If you're looking for a alternative guide on getting cheap games that works much better then this I suggest you head over to my other guide, How to buy cheap Steam games here on Tradeplz.com.
Let's start the guide
---
First thing we need to do is to sign in with our Steam account on Dispenser.tf, this is 100% safe and you're never entering your password on the site, it's all done through Steam. (you find the sign in button at the top of the screen)

Next up is searching for the game you want to buy. The search bar is also located at the top of the page.

Searching
After you search for the game of your choice you'll sometimes see something like this, a bunch of different search results for the game you search for. To the right you'll see the current price for each game. And you'll quite often stumble upon games that have several different versions of the same game. In the example below for The Witcher 3 you can see that there's a version market S. America, this is a region locked version that only works for that region, make sure you buy the right region, you should be looking for games that doesn't have a region marking (unless you can find your specific region)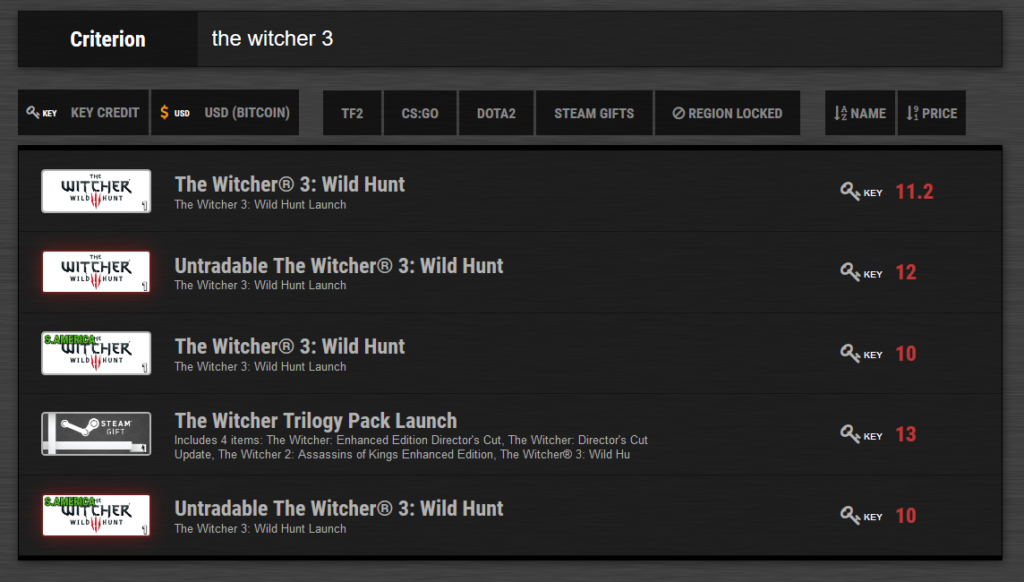 In the example you can see that some games are market "Untradeable". What this means is that these games has been bought from Steam within a month. All newly bought games can't be traded for 30 days. This does not effect you when buying games on Dispenser.tf though. You will finish the transaction as you usually would, the only difference is that the game won't be delivered in a trade offer, instead it will be sent as a game gift.
---
After you found a game you want to buy in the search you just press it and you'll see something similar to what's shown below, a list of different sellers of that specific game. You can click the name of the sellers to see reviews from past customers and other info. If I want to buy this game I need 11.2 keys.

Deposit keys to Dispenser.tf

We need to deposit some keys to buy our game with, you can see to the left of the screen how many key credits you have on the site, (if you're signed in) if you don't have enough keys you need to deposit more, you do this by clicking the Deposit Credit text (as shown in the picture to the left)
If you don't have any keys I suggest you check out my lists for where to buy cheap CSGO keys and TF2 keys, here you'll find resellers & shops that are dealing with keys.
TF2 keys are worth 1 keys and the CS:GO keys are worth a little bit more when depositing, you can see all the rates on the site. Simply click the category you want (TF2 or CSGO), mark the keys you want to deposit and then press Deposit. A trade offer will then be sent to you, just accept it.
(You can always withdraw your keys from the site if you change your mind, the deposit/withdrawal rate for TF2 keys is 1:1, it's different for CSGO keys though, you will get less value when withdrawing those keys.)
Now that you have enough key credits on your Dispenser account you can simply head back to the game listings and click Buy. The credits will be drawn from your account and the dispenser bot will deliver the game to you via a trade offer or by sending it to you as a gift, you should get your game within minutes.
---
If you have any other questions or concerns I suggest you head over to the official Dispenser.tf help section. It's filled with yummy information and helpful stuff. I would also suggest their support forum, I usually get help pretty fast over there, but that's more for when the shit hits the fan.
Spara
Spara
Spara
Spara
Spara
Spara
Spara
Spara
Spara